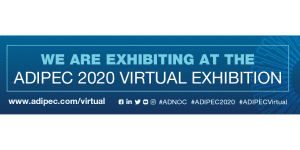 Representatives from Amnitec will fly the flag for UK manufacturing at ADIPEC 2020 – one of the world's largest oil and gas events.
Held from the 9 to 12 November, the four-day event will be streamed around the world, with an expected audience of over 7,000 online delegates!
Offering a superb opportunity for networking, attending, (albeit virtually!), on behalf of Amnitec is Sales Manager, David Puddy and Business Development Manager, Jeff Simms. Together the pair will be available during the event, where they will be on hand to discuss the complete range of hose and assemblies and advise industry representatives of their options when it comes to oil and gas hose.
Speaking of the event, David said:
"As a UK manufacturer supplying products to businesses around the world, ADIPEC provides a fantastic opportunity to showcase our products and to position Amnitec as the supplier of choice for hose assemblies."
He continued:
"The event gives us an opportunity to take our extensive range of high-performance products, including our high-pressure RF67 hoses and anti-corrosive products, which are so important in oil and gas applications, direct to industry professionals.
What's more, through event networking, we can demonstrate our bespoke solutions, whereby we work with customers to develop solutions for their specific demands."
Along with providing an opportunity for suppliers and potential customers to come together, the event also offers interactive sessions, and this year will focus on the future of the industry as well as how to build business resilience in these uncertain times.
You can find out more about attending ADIPEC 2020 here. Unable to make it? No problem, contact us and a member of the team will be in touch.